Our Hotel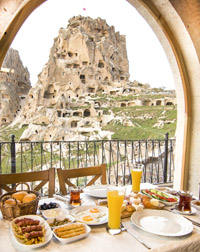 In the incredible UNESCO World Heritage site, in the heart of the unique Cappadocia, surrounded by the beautiful scenery of Uçhisar, Caldera Hotel is located amongst the site's historic mountains.
At Caldera Hotel, we offer an unforgettable experience, giving our guests the experience of life in ancient Cappadocia, surrounded by the exquisite luxury of today.
The restored house that used to accommodate Cappadocia's local inhabitants, Caldera Hotel is located, giving an authentic insight in the Turkish history, whether you choose to relax in our Cave Rooms, or in our King Suite having an incredible scenic view. The direct view of Uçhisar Castle serves the background, and has taken its from from millions of years of volcanic activity.
Our hotel will certainly offer our guests the feeling of the region's spirit, having been authentically restored with respect to the local history, using only materials unique to Cappadocia.
Wake up to sound of birds singing and the smell of the Cevizli Valley air, enjoy a traditional Turkish breakfast at our beautiful terraces, or simply relax with a cup of tea in our Turkish baths.
Opportunities are plenty at Caldera Hotel, and our free and unlimited WIFI makes sure for you to share your magic experience with your loved ones.
Caldera Hotel – Your home in Cappadocia.